Apex Trader Funding is a prop firm that offers low costs and fair rules. Read on to learn more, plus there's a bonus setup tutorial.
How Does Apex Trader Funding Challenge Work?
To find out how Apex Funding works, let's use the $300,000 account as an example, it's time to dive in:
No maximum time limit to reach the target
The target is just under 7% or $20,000 on the 300k account
There is a trailing drawdown that stops once it reaches a little over the starting balance (play it very safe early on)
Apex Trader Funding 50% OFF Coupon Code: TWXFSWMC
Apex Trader Funding is a business based in America that allows users to sign up for an account and trade a challenge in order to get funding. Their business model is very different to many other prop firms. Rather than taking an upfront fee (often around several thousand for a decent size account), Apex Trader Funding offers accounts for a monthly fee, and account resets for $85 USD if you need to reset the balance. Additionally, their challenges don't have an end date, so you don't have to rush your returns like many challenges out there.
Other features of Apex Trader Funding Challenges
Low monthly fee compared to other options on the market
Very low cost to reset the account, compared to the full cost of retrying with other firms
90% trader split, keep basically all of the profits you make
Access the REAL depth of market and order flow (this is what the professional traders use)
Supportive community and team
Lots of opportunities to learn and develop through the community and training offered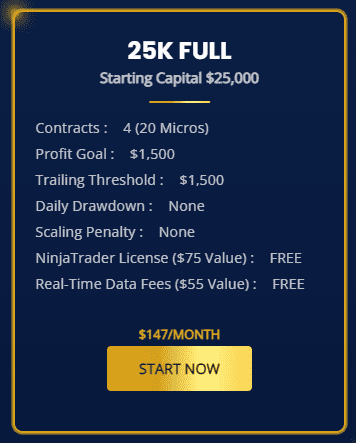 The cheaper option is a $25k account for $147 per month at the time of this screenshot to the left. 
Trading with Apex has a wide range of account options for traders big and small. 
You can have more than one account if you like too!  
CEO of Apex Trader Funding - Daryl Martin
Daryl Martin is the CEO of Apex Trader Funding and created the phrase diagnostic trading. Basically this term covers everything the trader should be looking at in order to make decisions. When a trader calls themselves a particular style of trader, it shows they do not use all of the features of the market in their favour and are likely not far enough into their journey to be a professional.
Daryl has made a successful career out of prop firms and trading. Apex Trader Funding is a mix of Daryl's ability to trade, desire to diversify his portfolio with traders like you and also his business acumen.
Apex Trader Funding Review
Apex Trader Funding is very different to many other prop firms. They are built by traders, for traders. Costs are low, access to real market data like Order Book Depth of Market on the futures exchange using the NinjaTrader Platform.
Apex Trader Funding Reddit
Apex Trader Funding is mentioned in reddit groups like r/propfirms and r/futurestrading. Remember that accessing up to $300,000 USD shouldn't be as simple as making a few trades, it really is a business proposal to the company that requires a level of professionalism and skill to gain access, especially at the low prices offered by Apex Trader Funding. 
Apex Trader Funding Rules
The rules to pass the challenge for Apex Trader Funding include a total drawdown rule which is trailing. Keep your profits and losses tight, grinding up to the target over time. The best rule is, there isn't a time limit like most prop firms so you can take your time with reaching the target, take your time with selecting the right trades to enter and pass in due course provided you can be consistent and limit your risk.
There are overnight rules where you can't hold trades overnight. The rules outlined are basically saying, to trade with Apex Trading Futures, take snippets out of the market and make sound decisions across a number of trades, across at least 7 trading days.
Apex Trader Funding Discount
As a client of Apex Trading, this is an honest review of the program and company so far. The opportunity and market data access provided are great. Using NinjaTrader and seeing the live market data for the depth of market is a great way to hone your trading skills, and it's included in the fee to access the challenge. This was a win win for me, as I am looking to master the craft of trading and reading the order flow (depth of market ladder, or SuperDOM in NinjaTrader) is the next major step to improving my trading. Normally the costs of data and platform for this type of information are quite high, so looking at Apex's cost, it isn't that far off the data only cost but instead, you also get the opportunity to reach a target profit then be funded as a trader.
Based on the rules, the style of trading needs to be rather tight drawdowns, trading in small snippets to grind your way to the target. Making between $500 – $1500 per day on the $300,000 account will reach the target withing a month or two, factoring in potential negative days from time to time. That means that within a month or two, there could be a $300k trading business given to me for the price of 1 or 2 monthly fees. Compared to buying a business in another industry, this is crazy cheap!
Getting in and out of the market, taking your dues each day to reach the target while practicing an essential skill (reading the Depth of Market and Order Flow) will help to pass the Apex Trader Funding challenge.
The downside to Apex Trader Funding
As a CFD trader personally, and having used MT5, the platforms are quite a bit different and confusing at first. Read the instructions properly to get set up and you will be fine, don't try rush in and work it out on your own as all of the instructions and videos are there. The thing I don't like about Apex is their communication is all over the place and not super easy to follow. One of the requirements to set up the accounts was in the FAQ area rather than the front page, so a minor inconvenience. When you are excited to get started though, it is frustrating. The instructions on page one give you most of the information but there are small parts missing. This shows the technical knowledge and trading experience of the company itself are very good, but if you are new to it then you will probably need to talk with the support or search the FAQ to get things set up properly.
Take your time, don't rush it, and if you have the ability and skill, you can do it!
If you haven't already started, I would plan to have the fees ready for 3 months before starting, to take the pressure off going for a quick result and getting funded fast.
What is Apex Trader Funding
Apex Trader Funding is a prop firm that offers access to the futures market for a monthly fee, if you pass the challenge (no time limit) then you will gain funding and a 90/10 split!
Prop trading is the name for firms that provide capital to traders either by way of employment, contract or purchase of capital. Often there are tests and challenges involved in all prop firms to ensure they are allocating their capital with the right talent. Many prop firms offer capital in exchange for fees and a challenge to be passed. Most prop firms offer a large upfront fee to take a challenge and often the challenges are on time limits. Apex Trader Funding offers no cap on the time to pass the challenge, and the target is far lower (by about 2-4% compared to most other prop firm requirements. This makes Apex Trader Funding the most achievable and fair prop firms in the industry.
Apex Trader Funding Coupon Code
Futures Trading Australia
Looking to trade futures in Australia? Apex Trader Funding has you covered, the futures market gives access to the real market and allows traders to see the real movements in the market that the CFD's track. Additionally, Apex Trader Funding let's you trade the market using their capital if you pass their challenge. Best of all, the challenge rules very reasonable!
Apex Futures Trading Strategies
Strategies for futures trading is effectively very similar to other strategies. Traders look for opportune areas to enter the market based on support, resistance and key areas of volume. This is also combined with the order flow (SuperDOM in NinjaTrader), by watching the volume come into the market and who has the overall strength (buyers or sellers).
Apex Futures Trading Platform
The trading platform that Apex Trader Funding uses is a combination of Rithmic and NinjaTrader, which connect to each other. NinjaTrader is the platform where analysis and trading can be performed, including reading the Depth of Market or SuperDOM which is the major edge over trading CFD's, where true volume and order flow is not visible.
Apex Futures Trading Brokers
Looking for a futures trading broker? Apex Trader Funding offers futures brokerage access via a prop firm challenge which leads to being funded as a trader. This form of trading futures allows traders to pay a monthly fee to access capital rather than forking out their own money. Pass the challenge and access the funds to trade, they have a 90/10 split in the trader's favour.
Trading futures is different to CFD trading in that it gives access to the direct market at a single exchange. CFD's on the other hand are not standardised, so the CFD brokers do not have all of the data on contracts globally for the entire market, leaving an unseen pool of volume for CFD traders. Because futures are traded on an exchange and are a standardised contract globally, the volume pool and order flow are visible, regulated and accurate.