The difference Between Rithmic and Tradovate when choosing your Apex Trader Funding account is outlined in this article, read on, and we hope this helps with making your decision!
Apex Rithmic vs Tradovate
Deciding which apex account to go for, be it Rithmic or Tradovate will depend on what's important to you. Let's hit the basics straight away, Tradovate is a nice user friendly experience, while Rithmic offers some more advanced features around risk and settings.
If you don't know what Apex Trader Funding is, read more here.
What is the best value, Rithmic or Tradovate?
Tradovate costs a little more, but is probably the easier option. Rithmic is cheaper, and has better risk management features. This video outlines the best account pricing, risk and other features since they are not all scaled equally.
Rithmic offers a range of tools and features that allow you to manage your account from a computer program you need to install. 
You can see a range of accounts (if you ahve more than one Apex account), set stop losses and automations in terms of closing orders.
Rather trade on Autopilot?
This might be more up your alley, simple trading robot that requires no technical setup.
Tradovate offers an online browser based platform experience which is easy to set up and enjoyable to use. It is also accessible on a mobile device which makes it easy to monitor your positions away from the computer. 
For a tutorial on setting up the Tradovate for apex, where you need to link it to the Ninjatrader, check out this page.
Tradovate is an online platform that is similar to Tradingview. It was bought out be Ninjatrader, and Tradovate can link to ninjatrader platform which is downloadable. 
Tradovate allows users to trade via a device or on the computer. 
Rithmic is a platform that links accounts and allows you to trade multiple Apex accounts at once.
The best features of Rithmic could be that they have excellent risk management settings. The user experience is a little clunky, so comparitively the Tradovate experience is much easier and better to look at. 
How to Set Up Rithmic for Apex
Setting up Rithmic is a little bit of a pain at first, but following these instructions should help you get through it fast.
Rithmic Settings for Apex Trader Funding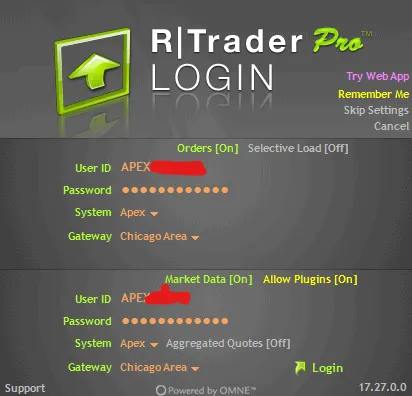 The Gateway to use is Chicago area, if you change this to your closest geological area it doesn't work. 
NinjaTrader Connection Setup for Apex Trader Funding
Once in Ninjatrader, click Connections, then configure. If you've done this before, make sure you click on the connection you set up (My NinjaTrader etc.) to connect your account after logging in. 
Double click on the "Available" one that relates to your account. Either Rithmic for Ninjatrader brokerage (for rithmic) or Ninatrader (for Tradovate). This will allow you to input your logins to connect your account.