How to set up Tradovate for Apex Trader Funding along with tips and tricks to get set up. 
Instead of pointing you to massive FAQs, long videos without a walkthrough and details that aren't direct and easy, this article gives you the buttons and step by step easy instructions to get Tradovate running so you can start trading with Apex Trader Funding, fast. 
Superfast Walkthrough (More details further down)
If you're fairly savvy with a computer and software, this quick walkthrough will help you get set up fast. Follow the prompts as you go such as 'next buttons', accepting terms etc. 
NOTE ~ You only need Ninjatrader if you want to trade multiple Apex accounts at once. If you are just on your first Apex Funded Evaluation, you can simply log into Tradovate without doing the Ninjatrader download and setup.
If you only want to trade on Tradovate, simply use step 1 and 6.
Run the downloaded Ninja Trader installer and follow the prompts. 
Connect NinjaTrader to your Tradovate with the Apex details here (Further Details and Screenshots)
Login to Tradovate using your NinjaTrader logins that you just created
Ready to trade – My account took a few hours to activate, allow some time.
1. Purchase the Tradovate Account
Step 1 is to get a Tradovate account evaluation via Apex Trader Funding Website. 
Click the image below and it will take you directly to the registration form for a 25k challenge (the cheapest Tradovate option). Fill in the information (Name, address etc.) and tick the boxes to agree to the terms. Use the Coupon Code TWXFSWMC to receive 50% or check the box to say you don't want to use a code.
Then click Next in the bottom right corner of the form. It will then ask for the payment details (credit card) and you can then process the payment. 
Do I Have to Use NinjaTrader for Apex Trader Funding?
No, you do not have to use Ninjatrader for apex trader funding, if you use Tradovate. Tradovate allows you to trade without connecting Ninjatrader. The reason you may want Ninjatrader is to use its specific features or you have more than one Apex Trader Funding Account. 
Now it's time to set up NinjaTrader – Register for a NinjaTrader account
You will be taken to a page asking you to confirm your email address. Head to your Email account, find the email from support@ninjatrader.com click the "Confirm Email Address" button.
The confirmation link will take you to a User Setup page where you create a username and password.
3. Download and Install NinjaTrader
Download and install Ninjatrader by opening and running the downloaded file, then accepting the terms or pressing next as prompted.
4. Connect NinjaTrader to Apex Tradovate Account
Once you have the Ninjatrader platform on your computer, you can now connect your Apex account to it. Remember to use your logins you made with Ninjatrader for the app. 
Once you log in, you should see a window open up. We want to now Connect the account. Click on Connections, then Configure. 
Another window will open up, under the Available column, double click NinjaTrader so that the Properties section allows you to type into sections.
Change the Username and Password to match your Apex details found under Tradovate tab and change the System to Apex. Now click Apply and ok. 
Back on the original tab, click connections and you should see the "My NinjaTrader" that you just created (unless you changed the name).
Simply click that and you should hopefully see the dot in the botton left corner turn Green. If not, it could simply mean that the account isn't ready yet.
At the time of writing this article, the activation can take a few hours so please be patient. 
5. Log into Tradovate (NinjaTrader)
Now that you've set up your NinjaTrader account, use those details (not your apex ones) to log into Tradovate (part of ninjatrader). You will be asked for some details (screenshots below). The final page is an agreement to Accept, and then you're in!
Not sure if you will see this but if so, click "Try it" on Simulation mode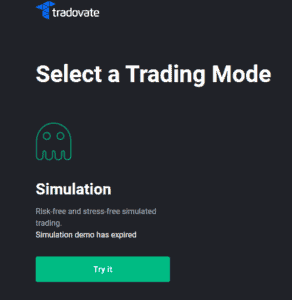 Now you are in! Get to the platform and start trading using the link below:
Tradovate (Use the details you made with Ninjatrader). 
Enjoy trading with Apex in conjunction with Tradovate (a ninjatrader initiative). 
Remember to keep an eye on the rules, drawdowns and more to ensure you have the best chance of success as an Apex funded trader.